協働研究所
日本電子YOKOGUSHI協働研究所

難波 啓一 特任教授
キーワード:
クライオ電子顕微鏡、超分子立体構造、べん毛モーター、蛋白質輸送、筋収縮、ナノマシン
クライオ電子顕微鏡法による構造生命科学の発展
細菌べん毛、細胞骨格、筋繊維など、生体運動やタンパク質輸送を駆動する分子モーター関連超分子や膜タンパク質を含む分子ナノマシンについて、その自己集合、力発生、動作制御、エネルギー変換など、高精度でダイナミックな動作のしくみを原子・分子レベルで解明する。クライオ電子顕微鏡法によるデータ収集と画像解析をより高速化することにより、生体分子の立体構造解析法を高度化し、様々な超分子ナノマシンの原子構造から動作原理を解明して、創薬やナノマシン設計など、将来のバイオナノテクノロジーの基盤技術確立に役立てる。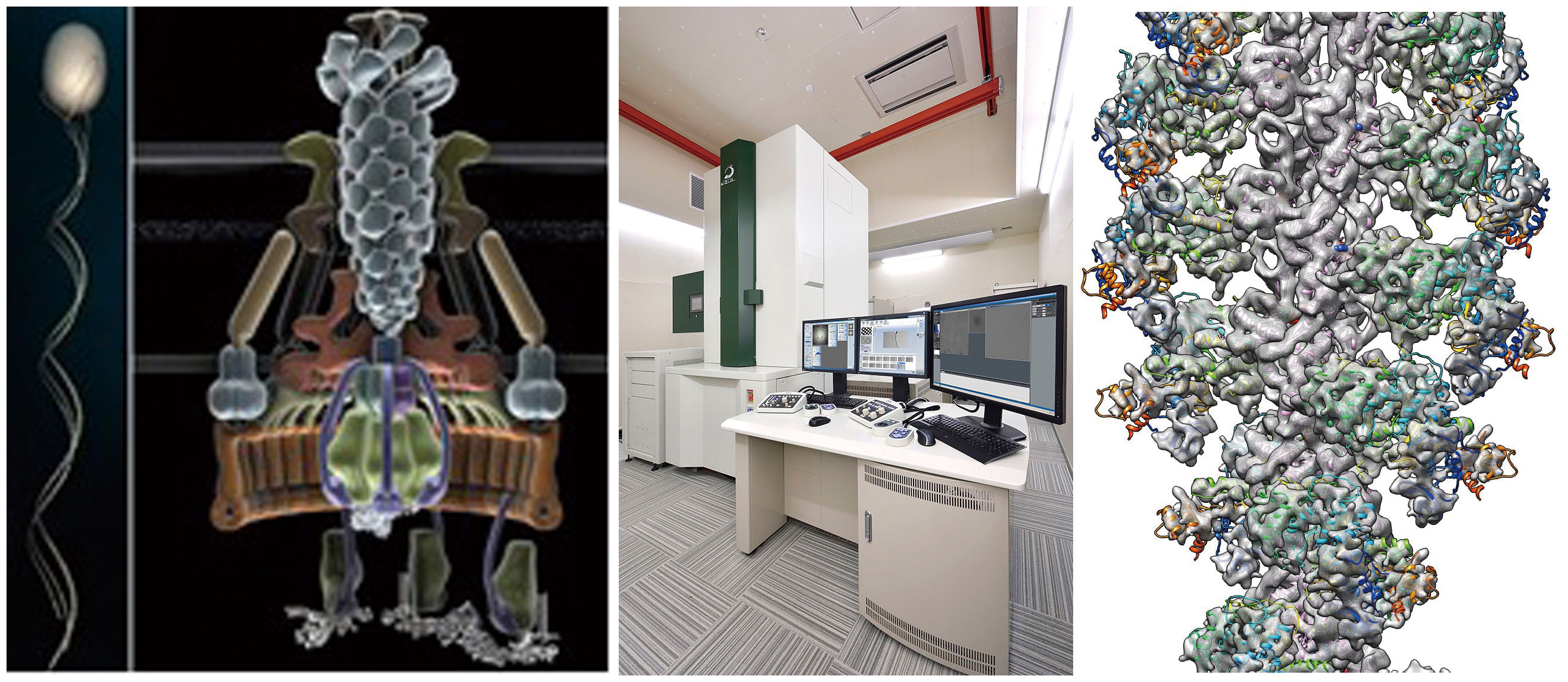 (左)細菌の運動器官べん毛はらせん型プロペラで、基部のモーターにより毎分2万回も回転して推進力を発生。べん毛はその構成タンパク質が基部の輸送装置で先端へ送られ先端成長する。(右)クライオ電子顕微鏡法は生体超分子を構成分子にばらして結晶化する必要がなく、超分子の機能を持ったままの立体構造とその変化を観察できる技術として生命科学の強力な武器になりつつある。
メンバー
| | |
| --- | --- |
| 難波 啓一 特任教授 | keiichi[at]fbs.osaka-u.ac.jp |
| 宮田 知子 特任准教授(常勤) | miya[at]fbs.osaka-u.ac.jp |
| 木下 実紀 特任助教(常勤) | miki[at]fbs.osaka-u.ac.jp |
| 藤田 純三 特任助教(常勤) | jfujita[at]fbs.osaka-u.ac.jp |
| 牧野 文信 招へい准教授 | |
| 山下 真生 特任研究員 | |
| 守矢 香奈 特任研究員 | |
| 阿部 康代 技術補佐員 | |
| 山田 智絵 技術補佐員 | |
| 串間 由江 技術補佐員 | |
| 山内 玲子 技術職員 | |
研究者の詳細を大阪大学研究者総覧やResearch Mapで検索できます。
研究成果
論文、総説、著書
2023年
The cryo-EM structure of the CENP-A nucleosome in complex with ggKNL2.
EMBO Journal in press 2023
Filamentous structures in the cell envelope are associated with bacteroidetes gliding machinery.
Commun. Biol. in press 2023
2022年
High-resolution structure of a microtubule-like tube composed of FtsZ-monobody complexes.
bioRxiv 2022 ( DOI:10.1101/2022.10.05.510932)
Isolation and structure of the fibril protein, a major component of the internal ribbon for Spiroplasma swimming.
Front. Microbiol. 13, 1004601 2022 (PMID:36274716 DOI:10.3389/fmicb.2022.1004601 )
Human antibody recognition and neutralization mode on the NTD and RBD domains of SARS-CoV-2 spike protein.
Scientific Reports 12, 20120 2022 (PMID:35436443 DOI:1038/s41598-022-24730-4)
A multi-rail structure in the cell envelope for the Bacteroidetes gliding machinery.
Research Square 2022 ( DOI:10.21203/rs.3.rs-1802191/v1)
Conserved GYXLI motif of FlhA is involved in dynamic domain motions of FlhA required for flagellar protein export.
Microbiol. Spectr. 10(4), e0111022 2022 (PMID:35876582 DOI:10.1128/spectrum.01110-22)
A panel of nanobodies recognizing conserved hidden clefts of all SARS-CoV-2 spike variants including Omicron.
Commun. Biol. 5, 669 2022 (PMID:35794202 DOI:10.1038/s42003-022-03630-3)
Multiple electron transfer pathways of tungsten-containing formate dehydrogenase in direct electron transfer-type bioelectrocatalysis.
Chem.Comm. 58, 6478-6481 2022 (PMID:35535582 DOI:10.1039/D2CC01541B)
Insight into distinct functional roles of the flagellar ATPase complex for flagellar assembly in Salmonella.
Front. Microbiol. 13, 864178 2022 (PMID:35602071 DOI:10.3389/fmicb.2022.864178)
Recent progress and future perspective of electron cryomicroscopy for structural life sciences.
Microscopy 71(S1), i3-i14 2022 (PMID:35275178 DOI:10.1093/jmicro/dfab049)
2021年
2020年
2019年
2018年
2017年
2016年
連絡先
〒565-0871 大阪府吹田市山田丘1-3
大阪大学大学院生命機能研究科 ナノバイオロジー棟6階 日本電子YOKOGUSHI協働研究所
TEL: 06-6879-4625
E-mail: keiichi[at]fbs.osaka-u.ac.jp(難波 啓一 特任教授)