Association of M18BP1/KNL2 with CENP-A nucleosome is essential for centromere formation in non-mammalian vertebrates
Abstract
Centromere is essential for faithful chromosome segregation. The mechanism of centromere formation remains unclear. Fukagawa and his colleagues demonstrate that M18BP1/KNL2, a member of the Mis18 complex, associates with CENP-A nucleosome in non-mammalian vertebrates and that this association is essential for centromere formation. This explains how new CENP-A recognizes the centromere position and centromeres are formed and maintained.
Figure1: Chromosome segregation during mitosis.
Chromosomes contains all genome information. During mitoisis spindles attach a special structure of chromosome, which is called "centromere". In this study, we clarified how centromeres are formed on chromosomes.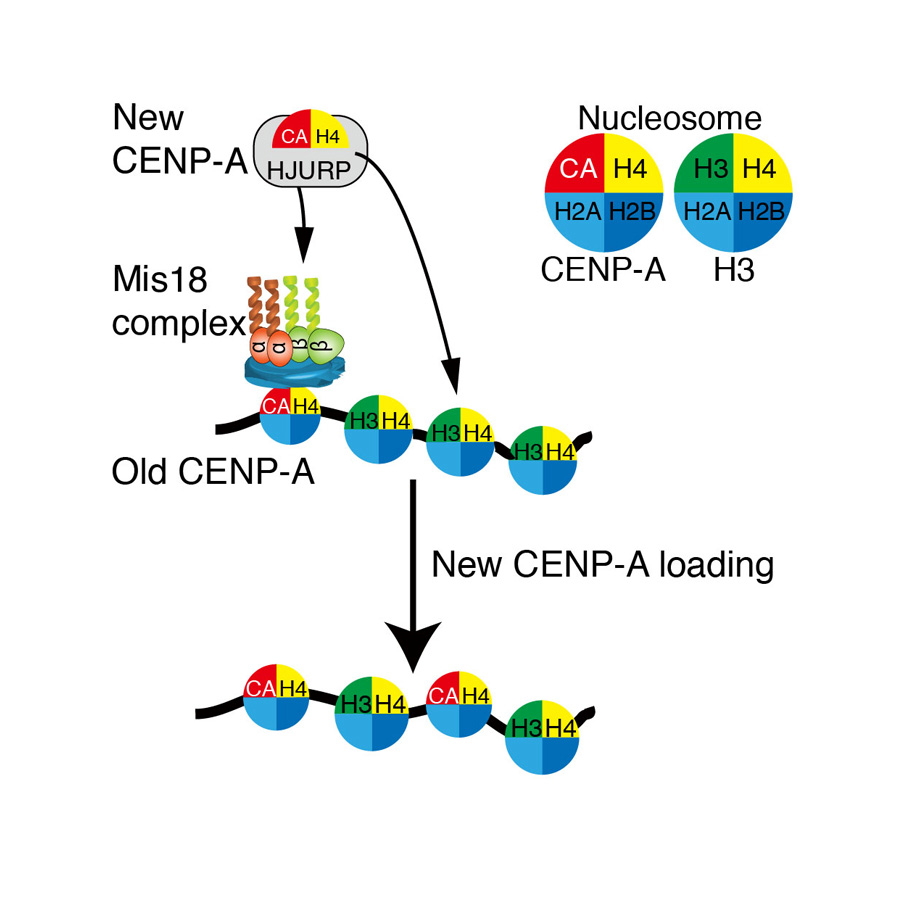 Figure2: Summary of this work.
The Mis18 complex including KNL2/M18BP1 associates with CENP-A nucleosomes (Old CENP-A) in centromeres. Pre-deposit CENP-A with H4 and HJURP (New CENP-A) recognizes the Mis18 complex on centromeres. Then, new CENP-A is correctly deposited into centromeres (CENP-A loading). This process explains how CENP-A is correctly deposited into centromeres.
Authors

Tetsuya Hori (1), Wei-Hao Shang (1), Masatoshi Hara (1), Mariko Ariyoshi (1), Yasuhiro Arimura (2), Risa Fujita (2), Hitoshi Kurumizaka (2), Tatsuo Fukagawa (1)

Graduate School of Frontier Biosciences, Osaka University, Suita, Osaka 565-0871, Japan.
Graduate School of Advanced Science & Engineering, Waseda University, Shinjuku, Tokyo 162-8480, Japan.

PubMed
28743004