Organismal Biosystems Laboratories
Laboratory of Stem Cell Biology and Developmental Immunology

Prof. NAGASAWA Takashi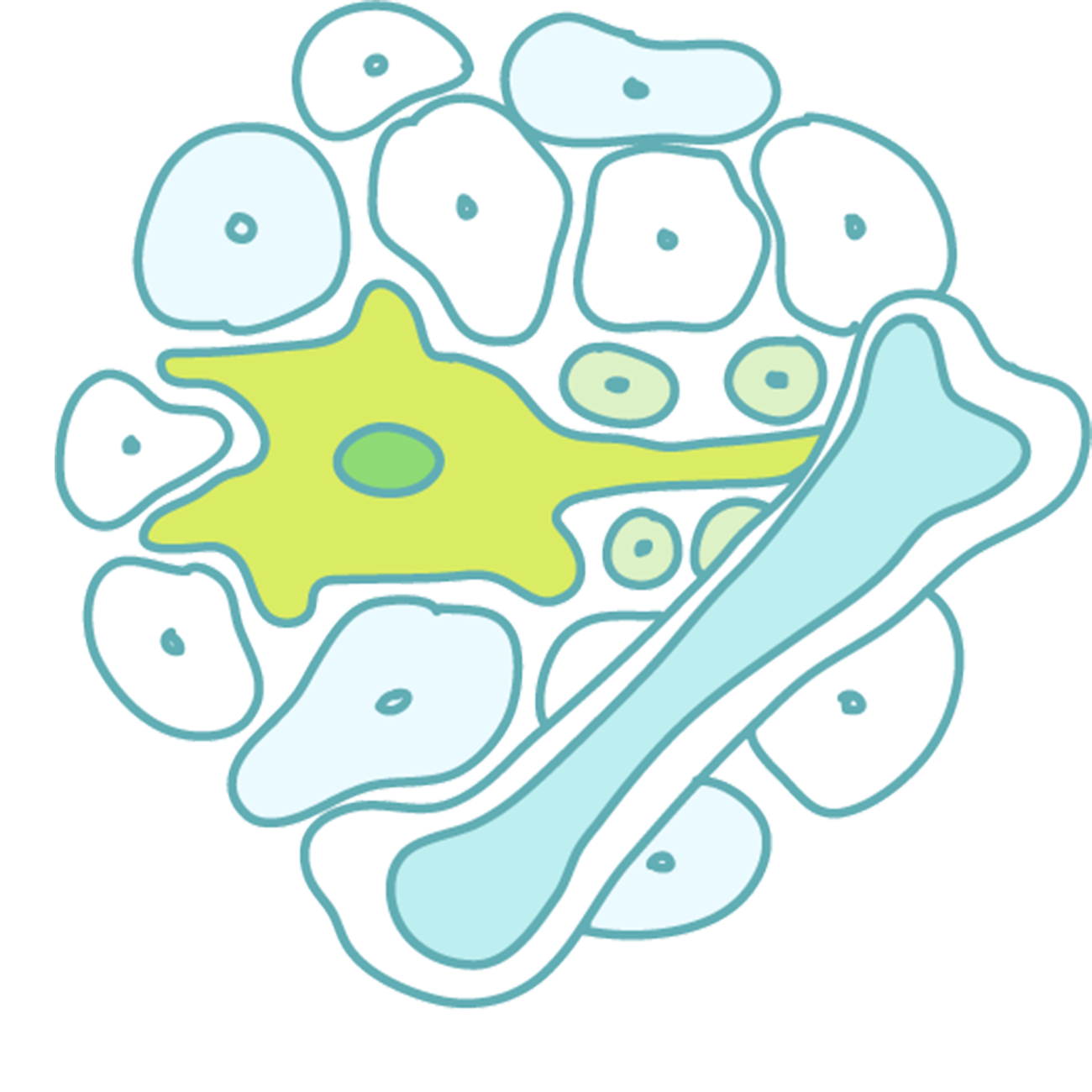 Keywords:
Niche, Hematopoietic stem cells (HSCs), Mesenchymal stem cells, Bone marrow, B cell
Studying how microenvironmental niches develop and regulate hematopoietic stem cells (HSCs) and Immune cells
In recent years, we have identified a population of reticular cells, called CXCL12 abundant reticular (CAR) cells, which express chemokine CXCL12 at high levels, within bone marrow. This indicated that CAR cells are mesenchymal stem cells and create the special microenvironment niches essential for the maintenance of hematopoietic stem cells (HSCs), immune cells such as B cells, and erythroid cells. We have found that the transcription factors Foxc1 and Ebf1/3 are preferentially expressed in CAR cells in the bone marrow and are essential for inhibiting adipogenic and osteogenic processes in CAR cells, respectively, and maintaining HSC niches. We are studying how CAR cells develop and control HSCs and hematopoiesis to understand the spatiotemporal regulation of lymph hematopoiesis within bone marrow.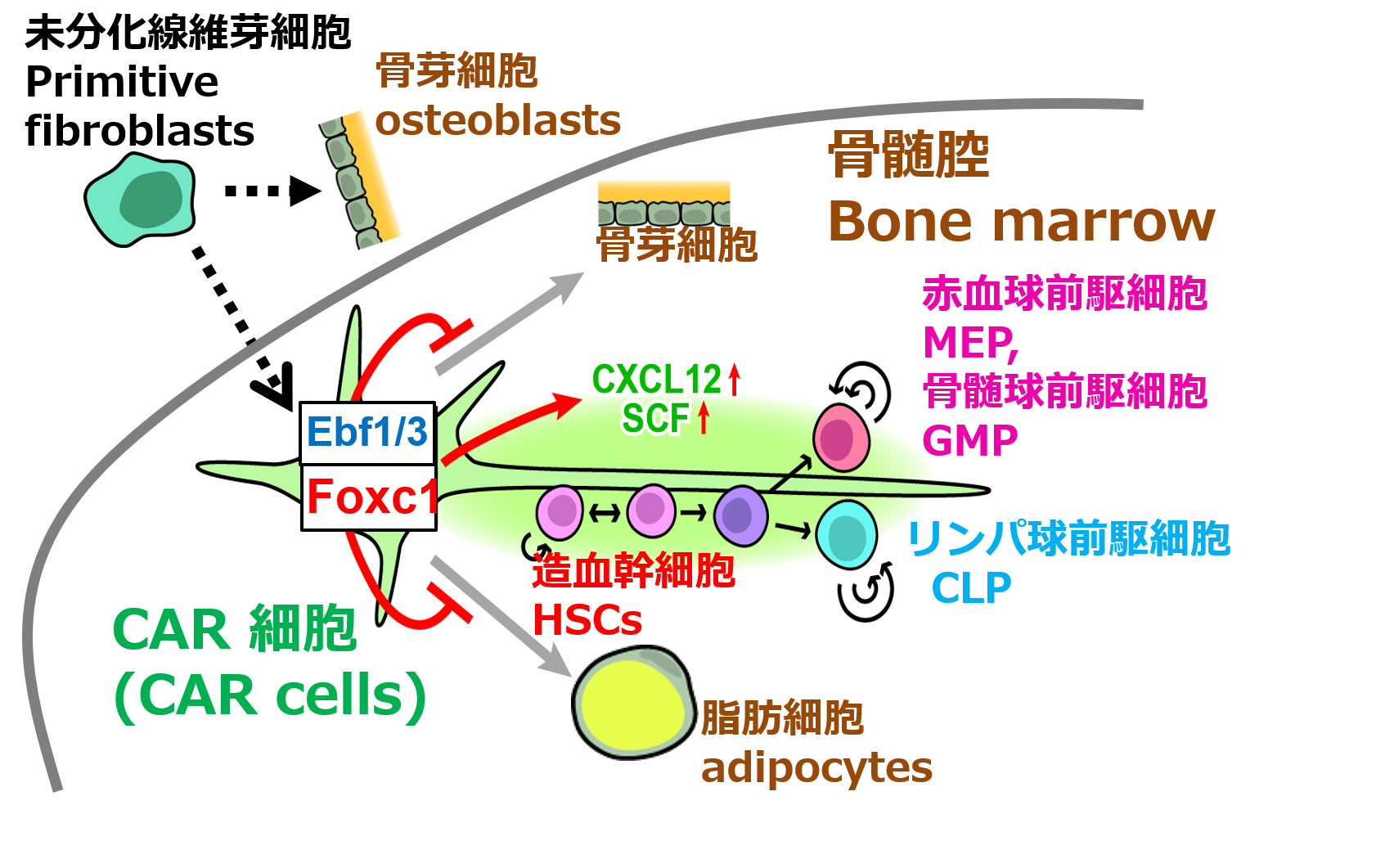 The development, identity, and functions of CAR cells within the bone marrow
Members
| | |
| --- | --- |
| Takashi Nagasawa (Professor) | tnagasa[at]fbs.osaka-u.ac.jp |
| Yoshiki Omatsu (Associate Professor) | omatsu[at]fbs.osaka-u.ac.jp |
| Kazumi Nagahara (Secretary) | nagahara[at]fbs.osaka-u.ac.jp |
You could probably reach more information of individual researchers by Research Map and researcher's search of Osaka-U.
Q&A
What is your hot research topic?

We are currently focusing on the development, functional molecular mechanism and disease related issue of niche that maintains tissue stem cells like hematopoietic stem cells etc.
What is your breakthrough or research progress ?

We identified the transcription factors that are specifically expressed in and play essential roles in cellular niches for HSCs.
Do you collaborate with other institutions and universities?

We are in collaboration with researchers in Harvard Medical School, the Univ. of Michigan and the Univ. of Zurich among others within Japan and around the world supplying model mice for research.
What kind of careers do your Lab's alumni go on to?

Principle Investigators within Japan and around the world, researchers at pharmaceutical companies, medical doctors etc.
How do you develop your research?

We will reveal the physiological role and functions of tissue stem cells and their niche.
Research Highlights
Publications (Research Articles, Reviews, Books)
2022
2021
Our ideal candidate (as a graduate student)
We are looking for a highly motivated person to work on our research topics as our lab member. Our lab welcomes the person who loves taking care of creatures, hand working and handcraft too. Any kind of background (such as your expertise or major) is available.
Contact
Laboratory of Stem Cell Biology and Developmental Immunology, Graduate School of Frontier Biosciences, Osaka University,
1-3 Yamadaoka, Suita, Osaka 565-0871 Japan.

TEL: +81-6-6879-4606

E-mail: tnagasa[at]fbs.osaka-u.ac.jp (Prof. Takashi Nagasawa)