Biomolecular Networks Laboratories
Laboratory of Mitochondrial Dynamics

Assoc. Prof. OKAMOTO Koji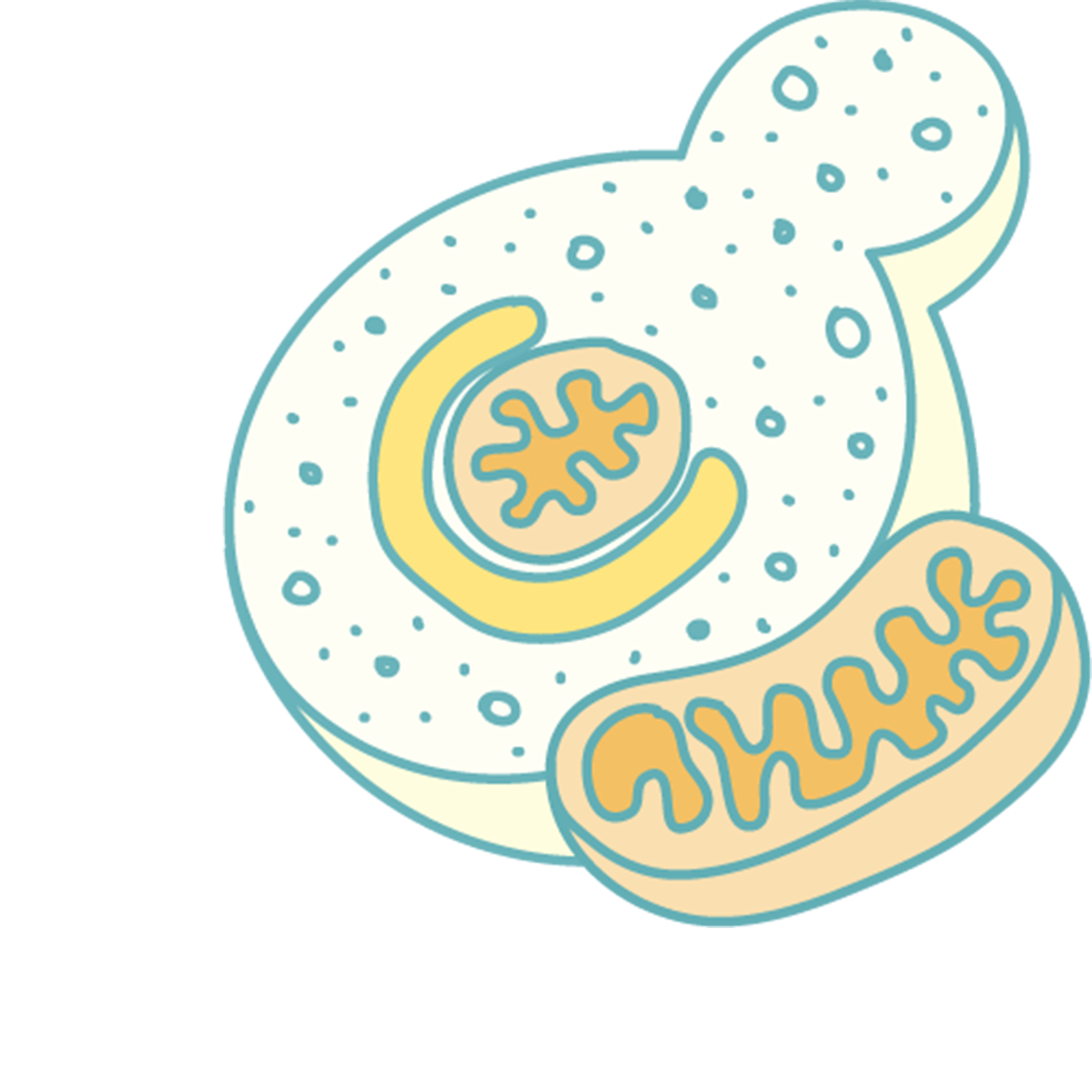 Keywords:
Yeast, Mitochondria, Organelle, Mitophagy
Unraveling mitochondrial quality and quantity control mechanisms
Mitochondria are energy-converting organelles that act as "the power plants of the cell", and change their quantity in response to cellular energy demand. They also accumulate oxidative stress from reactive oxygen species generated during electron transport, and damaged mitochondria are selectively eliminated from the cytoplasm. These quality and quantity control systems involve mitochondria-specific autophagy (mitophagy), and numerous studies suggest that defects in these systems are associated with various human diseases. Mitophagy is a catabolic process conserved from yeast to humans that sequesters and degrades mitochondria as whole organelles. The aim of our study is to uncover the general principle of mitophagy at the molecular and cellular levels, and elucidate the physiological function of this degradation process as an intracellular quality and quantity control system.

The landmark protein Atg32 is induced in response to oxidative stress, and localized on the surface of mitochondria to recruit Atg8 and Atg11, two proteins critical for cargo recognition. Atg11 acts as a scaffold for assembly of other Atg proteins that cooperatively mediate formation of isolation membranes surrounding mitochondria.
Members
Koji Okamoto (Associate Professor)
kokamoto[at]fbs.osaka-u.ac.jp
Mashun Onishi (JSPS Postdoctoral Fellow)
mashun07[at]fbs.osaka-u.ac.jp
Ramona Schuster (JSPS Postdoctoral Fellowships for Research in Japan)
ramonaschuster[at]fbs.osaka-u.ac.jp
LIU Yang(D4)
Kanako Fujii(D2)
Ritsu Shibata(D2)
rshibata[at]fbs.osaka-u.ac.jp
Duan Lan(D1)
Mitsutaka Kubota(D1)
kubota98[at]fbs.osaka-u.ac.jp
Yuko Imada (Secretary)
yimada[at]fbs.osaka-u.ac.jp
You could probably reach more information of individual researchers by Research Map and researcher's search of Osaka-U.
Q&A
What is your hot research topic?

Previous studies suggest that mitochondria are established independently of other organelles. However, it has recently become evident that they cooperate phyisically and functionally with other organelles suvh as the endoplasmic reticulum (ER), peroxisome, and lysosome. We found that selective degradation of mitochondria is also regulated via ER-localized proteins, and are now analyzing its molecular mechanisms.
What is your breakthrough or research progress in the last 5 years?

We have revealed that selective degradation of mitochondria is intimately linked to diverse processes including phospholipid methylation, protein N-terminal acetylation, phospholipid dephospholylation, nutrient/stress signaling, ER-associated degradation, and ER membrane protein insertion.
What kind of background do your lab members have?

The lab members have expertise on molecular biology, biochemistry, genetics, and cell biology using becteria, yeast, mammalian cultured cells as model systems.
Do you collaborate with institutions outside of Osaka Univ.?

We are currently collaborating with researchers from Wakayama University, Nagoya City University, Johns Hopkins University (Baltimore, MA, USA), and University of Groningen (Groningen, Netherlands).
What kind of careers do your Lab's alumni go on to?

Six former lab members are now working at companies, taking a postdoc in Germany, and stadying at the graduate school in the USA.
How do you develop your research?

We anticipate to decipher basic principles underlying selective degradation of mitochondria at the molecular level in depth. Recently, using yeast, we have established a label-free method to detect selective degradation of mitochondria. We aim to apply this method to a variety of organisms except for model systems in the laboratories, and elucidate the universality and diversity in selective degradation of mitochondria.
Research Highlights
Publications (Research Articles, Reviews, Books)
2020
2019
Our ideal candidate (as a graduate student)
We are looking for a highly motivated person to work on our research topics as our lab member. Our lab welcomes the person who loves taking care of creatures, hand working and handcraft too. Any kind of background (such as your expertise or major) is available.
Contact
Laboratory of Mitochondrial Dynamics, Graduate School of Frontier Biosciences, Osaka University,
1-3 Yamadaoka, Suita, Osaka 565-0871 Japan.

TEL: +81-6-6879-7970

E-mail: kokamoto[at]fbs.osaka-u.ac.jp (Assoc. Prof. Koji Okamoto)