Neuroscience Laboratories
Dynamic Brain Network Laboratory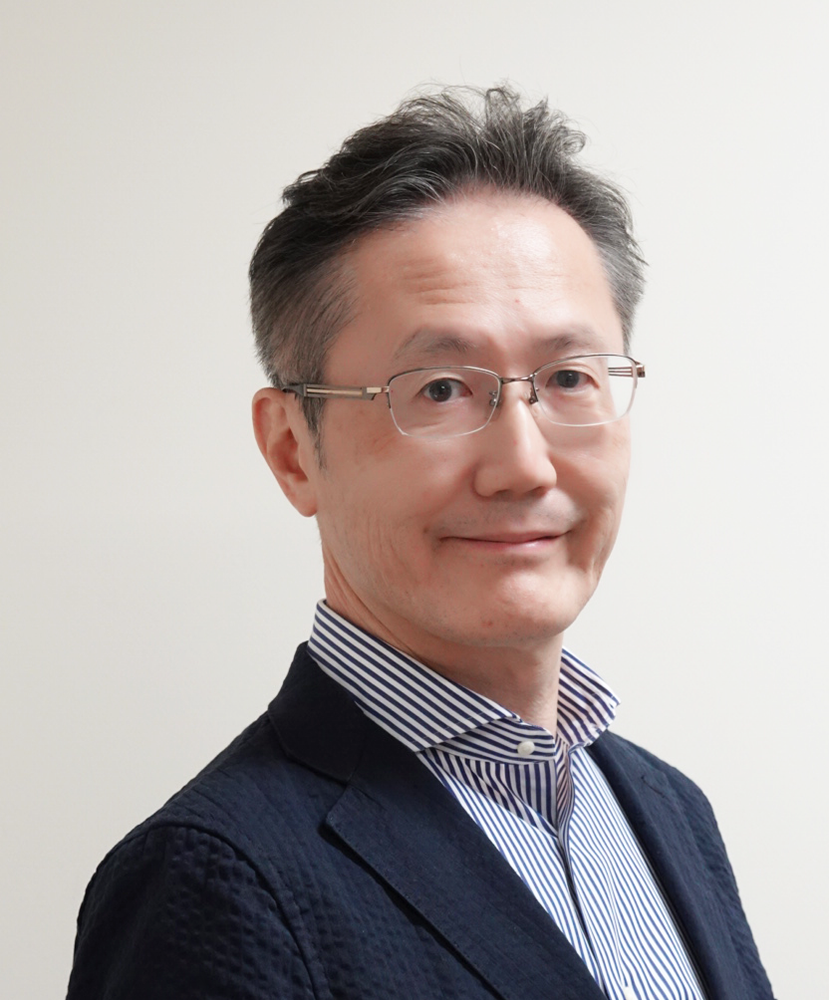 Prof. KITAZAWA Shigeru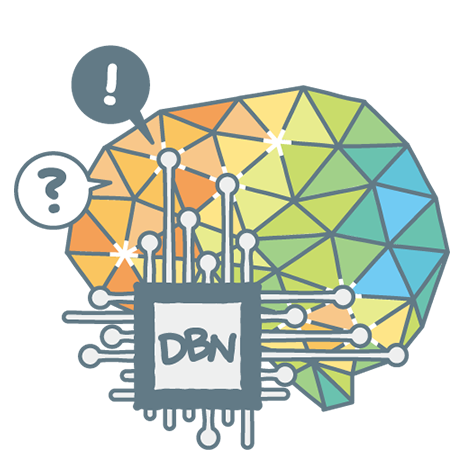 Keywords:
Cognitive brain science, Spatial cognition, Perception of time, Social cognition, Motor learning
Understanding brain functions as those of dynamic networks
Functions of the human brain ranges from perception, motor control, and cognition, to communication. Since the discovery of Broca's area in 1861, brain researches has been developed by localizing each individual function to a specific region in the brain. However, any function cannot be achieved in one localized area, each individual column, or single neuron. Functions can only be achieved through dynamic collaboration across multiple "localized" areas of the brain. Our Dynamic Brain Network Laboratory aims at finding the principle of such collaboration across multiple regions. Functions being studied are 1) the perception of time, 2) motor learning, 3) visual stability, and 4) social communication.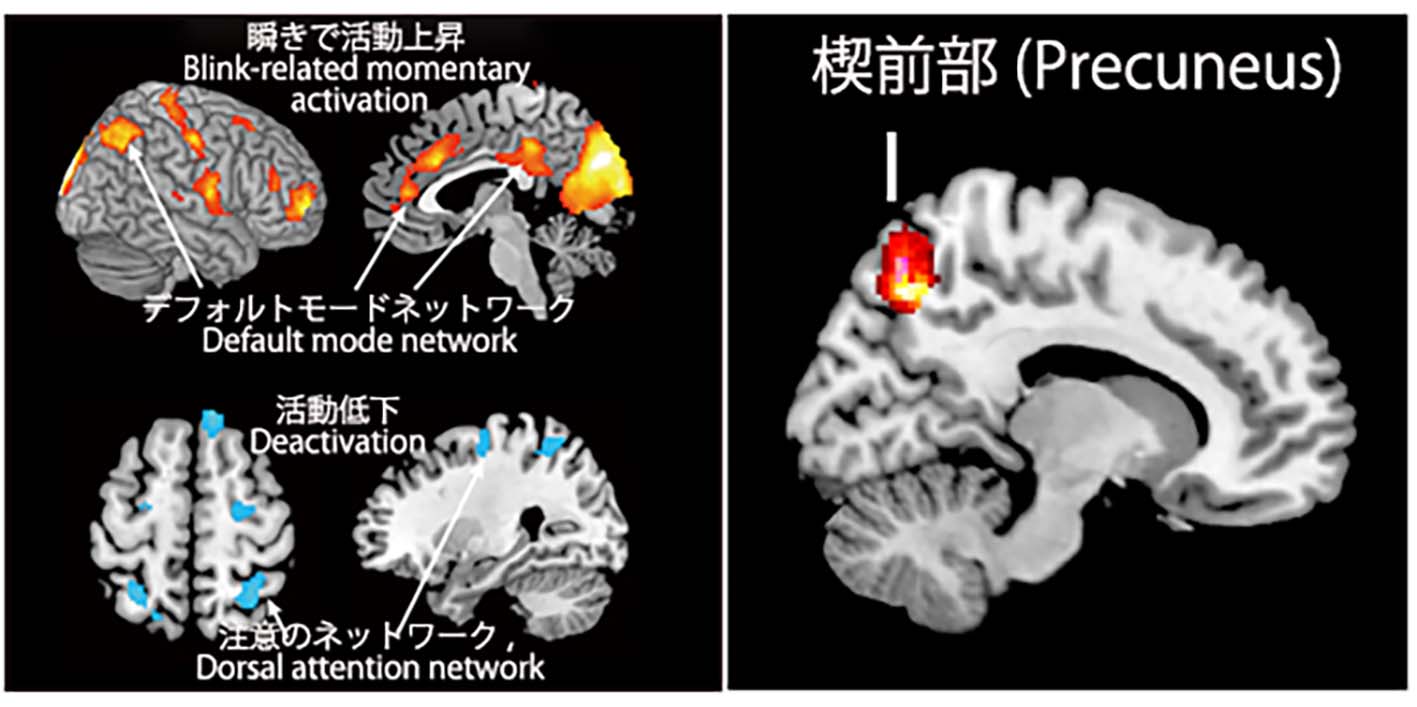 Left: Blink-related momentary activation of the default mode network (top) and deactivation of the dorsal attention network (bottom). Right: The precuneus, which occupies the center of the brain network, is likely to be representing the origin of our space and time perception (the here and now).
Please visit Lab home page for more details.
Members
| | |
| --- | --- |
| Shigeru Kitazawa Professor | kitazawa[at]fbs.osaka-u.ac.jp |
| Tamami Nakano Associate Professor | tamami_nakano[at]fbs.osaka-u.ac.jp |
| Masato Inoue Specially Appointed Associate Professor | m-inoue[at]fbs.osaka-u.ac.jp |
| Kei Watanabe  Assistant Professor | kei_watanabe[at]fbs.osaka-u.ac.jp |
| Masanori Saruwatari Assistant Professor | ms[at]fbs.osaka-u.ac.jp |
| Yuki Murai Research Fellow | |
| Ali Moharramipor D5 | |
| Nao Hanyu D4 | |
| Mohammand Amin Abdollahi D3 | |
| Reiji Tanaka D2 | |
| Yuki Matsuda D1 | |
| Marina Fukui D1 | |
| Hiroi Akahoshi D1 | |
| Shoko Asakage D1 | |
| Gentaro Takahashi D1 | |
| Takuto Yamamoto Medical student | |
| Yoshiaki Yamazaki Medical student | |
| Chinatsu Marumo Medical student | |
| Karen Suzu Technician | |
| Yoshika kaneda  Secretary | |
You could probably reach more information of individual researchers by Research Map and researcher's search of Osaka-U.
Q&A
What is your hot research topic?

We are now interested in elucidating the functions of the precuneus. The precuneus, the core region of the default mode network, is likely to represent the origin of our space and time perception (the here and now). The default mode network, which was found to be activated after each eyeblink, occupies the center of the brain network.
What is your breakthrough or research progress in the last 5 years?

1. We found that "the now" is represented in the precuneus (Tang et al., 2021).
2. We found that the dopamine reward sys
3. We found that neurons in the motor and parietal association cortices detect errors in reaching, and provide instructions on how to improve the movement (Inoue et al., 2016, 2018).

What kind of background do your lab members have?

Members in our lab have a variety of backgrounds that range from neurophysiology to cognitive neuroscience and engineering.
Do you collaborate with other institutions and universities?

We are collaborating with researchers at Johns Hopkins University, Lyon University, and others.
What kind of careers do your Lab's alumni go on to?

Some assume positions in universities, research institutes, hospitals, and others in companies.
How do you develop your research?

It is generally accepted that amyloid beta deposits begin to accumulate in the precuneus and the default mode network before the onset of Alzheimer's dementia. Our research on cognitive functions and the brain network will provide significant clues to understand pathophysiology of dementia.
Research Highlights
Publications (Research Articles, Reviews, Books)
2021
2020
Our ideal candidate (as a graduate student)
We are looking for a highly motivated person to work on our research topics as our lab member.
Contact
Dynamic Brain Network Laboratory, Graduate School of Frontier Biosciences, Osaka University,
1-3 Yamadaoka, Suita, Osaka 565-0871 Japan.

TEL: +81-6-6879-4431

E-mail: kitazawa[at]fbs.osaka-u.ac.jp (Prof. Shigeru Kitazawa)