Organismal Biosystems Laboratories
Laboratory of Immunology and Cell Biology
Prof. ISHII Masaru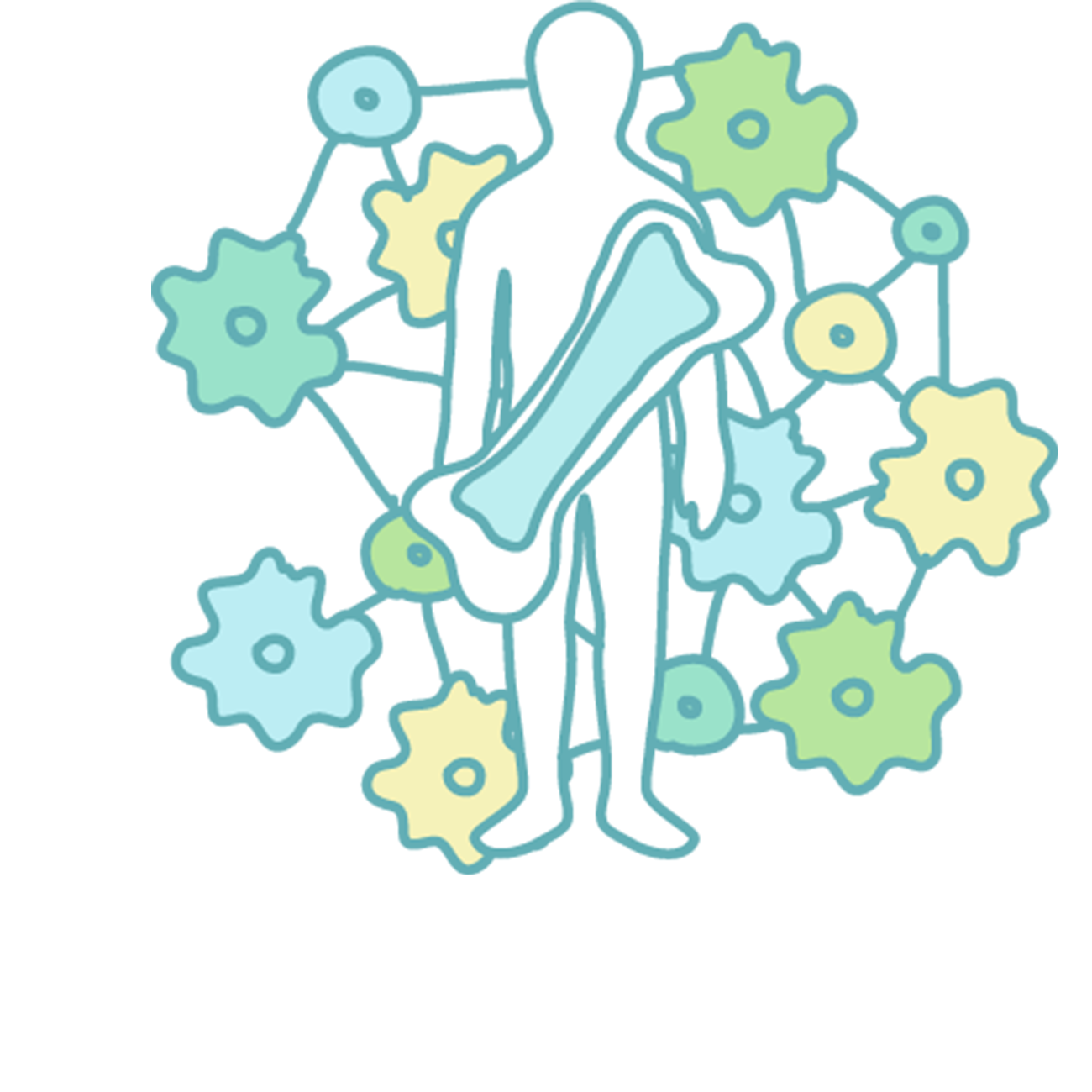 Keywords:
Imaging, Immunity, Bone tissue, Bone marrow, Blood cell
Living cells are constantly moving and working in our living bodies
The main theme of our laboratory is to reveal the cellular dynamics in various kinds of tissues and organs in vivo, by using advanced imaging techniques, especially focusing on the dynamic phenomenon in immune and inflammatory systems. By exploiting advanced multiphoton microscopy, we have originally developed original intravital imaging systems that enable the visualization of the movements of the diverse cell types resident in various immune tissues and organs in situ. We first established a live imaging system for visualizing living phenomena in intact bone marrow cavities. The dynamic nature of different cell types can be visualized in a time-dependent manner, in addition to the spatial and structural information generated by conventional histological analyses, resulting in a paradigm shift in research on immunology and cell biology.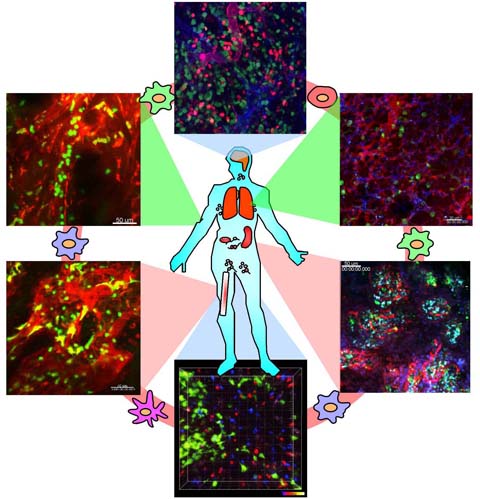 Dynamic immune network wiring different tissues and organs and constituting integrity of biosystems
Members
| | |
| --- | --- |
| Masaru Ishii (Professor) | mishii[at]icb.med.osaka-u.ac.jp |
| Nishikawa keizo (Guest Associate Professor, Doshisha Univ.) | |
| Junichi Kikuta (Associate Professor) | jkikuta[at]icb.med.osaka-u.ac.jp |
| Takao Sudo (Assistant Professor) | sudo[at]icb.med.osaka-u.ac.jp |
| Yutaka Uchida (Specially Appointed Assistant Professor, Graduate School of Medicine) | |
| Lok Laurence (Specially Appointed Researcher, IFReC) | |
| Erika Yamashita (Specially Appointed Researcher, Graduate School of Medicine) | |
| Akito Morimoto (Specially Appointed Researcher, Graduate School of Medicine, Division of health sciences) | |
| Mayu Fujita (Guest Researcher) | |
| Tetsuo Hasegawa (Guest Researcher) | |
| Tomoka Awao (Guest Researcher, NIBIOHN) | |
| Ayumi Sakai (Technical Staff) | |
| Mami Kawasaki (Technical Staff) | |
| Maiko Yorioka (Technical Staff) | |
You could probably reach more information of individual researchers by Research Map and researcher's search of Osaka-U.
Q&A
What is your hot research topic?

Organisms, such as animals, are shaped by organizational dynamics, and the spatiotemporal control of dynamic cellular movement in the body is crucial for life activity. In our lab, we intend to comprehensively investigate dynamic behaviors and their molecular basis in vivo using combinatory cutting-edge technologies, such as intravital imaging and single-cell sequencing analyses that were originally developed by the proposer of this study. Drawing on novel cross-disciplinary approaches based on mathematics, and bioinformatics, we seek to understand the essence of life by identifying the invisible hand ruling cellular dynamics in vivo.
What is your recent breakthrough or research progress?

1. Osteoclasts have a unique bone-destroying capacity, playing key roles in steady-state bone remodeling and arthritic bone erosion. Whether the osteoclasts in these different tissue settings arise from the same precursor states of monocytoid cells is presently unknown. Here, we show that osteoclasts in pannus originate exclusively from circulating bone marrow-derived cells and not from locally resident macrophages. We identify murine CX3CR1hiLy6CintF4/80+I-A+/I-E+ macrophages (termed here arthritis-associated osteoclastogenic macrophages (AtoMs)) as the osteoclast precursor-containing population in the inflamed synovium, comprising a subset distinct from conventional osteoclast precursors in homeostatic bone remodeling. Tamoxifen-inducible Foxm1 deletion suppressed the capacity of AtoMs to differentiate into osteoclasts in vitro and in vivo. Furthermore, synovial samples from human patients with rheumatoid arthritis contained CX3CR1+HLA-DRhiCD11c+CD80-CD86+ cells that corresponded to mouse AtoMs, and human osteoclastogenesis was inhibited by the FoxM1 inhibitor thiostrepton, constituting a potential target for rheumatoid arthritis treatment.(Hasegawa et al., Nat Immunol, 2019)
2. Bone homeostasis is regulated by communication between bone-forming mature osteoblasts (mOBs) and bone-resorptive mature osteoclasts (mOCs). However, the spatial-temporal relationship and mode of interaction in vivo remain elusive. Here we show, by using an intravital imaging technique, that mOB and mOC functions are regulated via direct cell-cell contact between these cell types. The mOBs and mOCs mainly occupy discrete territories in the steady state, although direct cell-cell contact is detected in spatiotemporally limited areas. In addition, a pH-sensing fluorescence probe reveals that mOCs secrete protons for bone resorption when they are not in contact with mOBs, whereas mOCs contacting mOBs are non-resorptive, suggesting that mOBs can inhibit bone resorption by direct contact. Intermittent administration of parathyroid hormone causes bone anabolic effects, which lead to a mixed distribution of mOBs and mOCs, and increase cell-cell contact. This study reveals spatiotemporal intercellular interactions between mOBs and mOCs affecting bone homeostasis in vivo.(Furuya et al., Nat Commun, 2018)。
3. Metabolic reprogramming occurs in response to the cellular environment to mediate differentiation, but the fundamental mechanisms linking metabolic processes to differentiation programs remain to be elucidated. During osteoclast differentiation, a shift toward more oxidative metabolic processes occurs. In this study we identified the de novo DNA methyltransferase 3a (Dnmt3a) as a transcription factor that couples these metabolic changes to osteoclast differentiation. We also found that receptor activator of nuclear factor-κB ligand (RANKL), an essential cytokine for osteoclastogenesis, induces this metabolic shift towards oxidative metabolism, which is accompanied by an increase in S-adenosylmethionine (SAM) production. We found that SAM-mediated DNA methylation by Dnmt3a regulates osteoclastogenesis via epigenetic repression of anti-osteoclastogenic genes. The importance of Dnmt3a in bone homeostasis was underscored by the observations that Dnmt3a-deficient osteoclast precursor cells do not differentiate efficiently into osteoclasts and that mice with an osteoclast-specific deficiency in Dnmt3a have elevated bone mass due to a smaller number of osteoclasts. Furthermore, inhibition of DNA methylation by theaflavin-3,3'-digallate abrogated bone loss in models of osteoporosis. Thus, this study reveals the role of epigenetic processes in the regulation of cellular metabolism and differentiation, which may provide the molecular basis for a new therapeutic strategy for a variety of bone disorders.(Nishikawa et al., Nat Med, 2015)
What kind of background do your lab members have?

We have a variety of members, including graduates from the areas of science and medicine.
Do you collaborate with other institutions and universities?

We are in collaboration with the Graduate School of Information Science and Technology and the Graduate School of Engineering at Osaka University. We are also studying with a variety of research institutions, such as the University of Tokyo, Kyoto University, and RIKEN.
What kind of careers do your Lab's alumni go on to?

Academic positions (Osaka University), pharmaceutical companies, etc
How do you develop your research?

The ultimate aim of the proposed research is to expand the concept of morphology, which is based on the form of cells and tissue, and to establish a novel scientific field, which posits cellular movement as the universal principle of life.
Research Highlights
Publications (Research Articles, Reviews, Books)
2021
2020
Our ideal candidate (as a graduate student)
We are looking for a highly motivated person to work on our research topics as our lab member. Our lab welcomes the person who loves taking care of creatures, hand working and handcraft too. Any kind of background (such as your expertise or major) is available.
Contact
Laboratory of Immunology and Cell Biology, Graduate School of Frontier Biosciences, Osaka University,
2-2 Yamadaoka, Suita, Osaka 565-0871 Japan.

TEL: +81-6-6879-3881

E-mail: mishii[at]icb.med.osaka-u.ac.jp (Prof. Masaru Ishii)